Taken from https://actforfree.noblogs.org/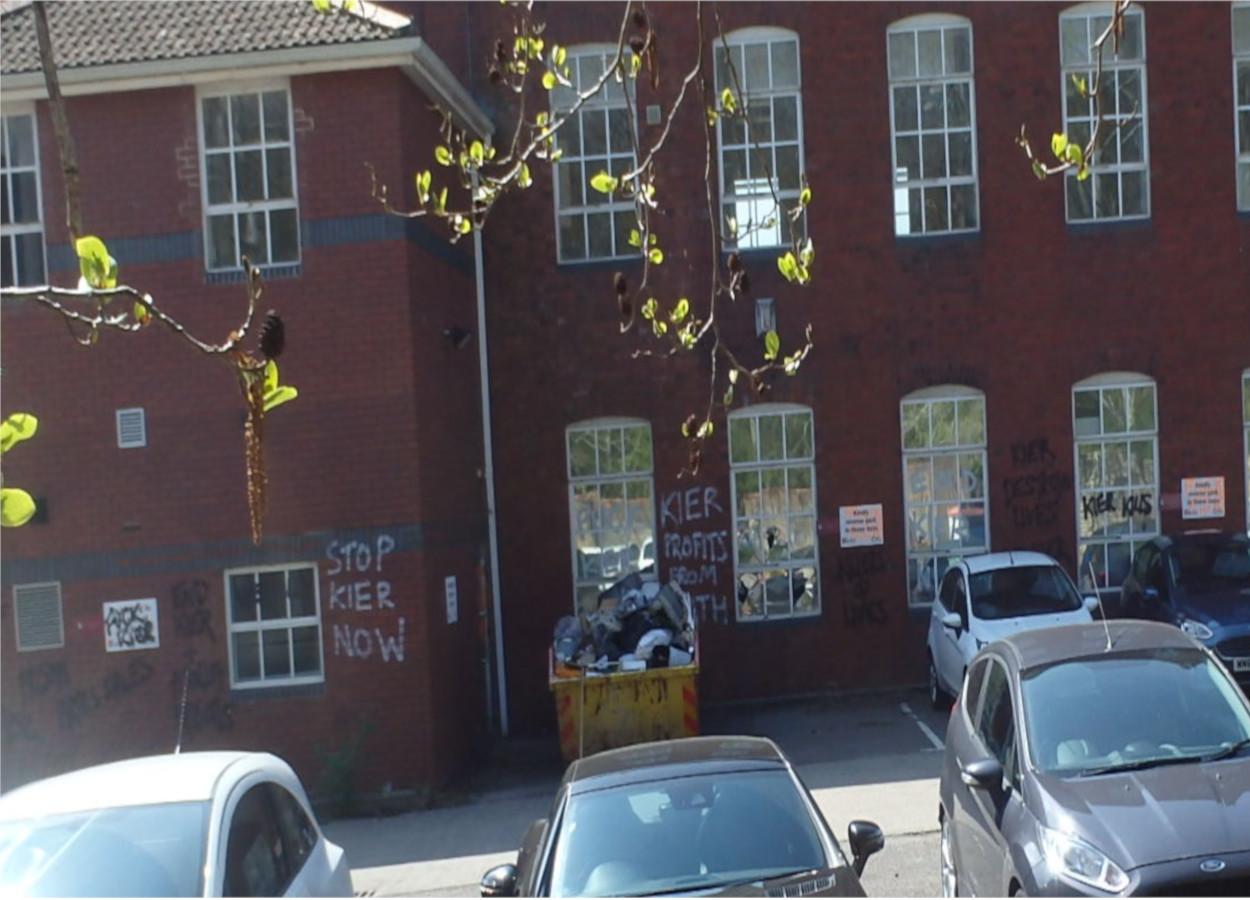 This week we targeted the Bristol based offices of Kier, a company who, hand in hand with the State, profit from the misery and suffering of others.
It was easy and fun as we splashed paint and sprayed messages across the walls and smashed the windows of the building to highlight where some of their profits come from.
Prison:
Kier has been working with the ministry of "justice" for the last 14 years, having worked on the Midlands mega-prison, HMP Oakwood and the new mega-prison in Wellingborough. The conditions within these institutions can be described as nothing less than torture. Kier are literally materialising physical and psychological trauma before it's even been appointed its receivers.
Vivisection:
In consistancy with their passion for suffering and confinement, they have overseen the construction of laboratories which maim and imprison a number of other species as well. These include labs for public health England, the University of Cambridge and recently, a £50m project for the Pirbright institute which torment and mutilate pigs, sheep, goats, cows, poultry, rabbits, guinea pigs and mice.
HS2:
Kier is also in a joint arrangement with Genie Civil to build HS2. Not only will HS2 disrupt and ruin communities across the country, it will tear apart hundreds of irreplaceable habitats and ancient woodlands, all for the steady progressive onslaught of capitalism. We wish to pass on our support and solidarity to all those who are acting in opposition to HS2 across the country at this time.
War:
Kier is integral to Britain's military infrastructure. They work with the ministry of defence on naval bases, air stations, facilities supporting land forces and laboratory and research sites.
Workers Rights:
Kier has been found guilty of multiple safety violations leading to worker deaths and serious injuries. Kier were a founding member of the consulting association that monitors over 3000 workers, with hundreds banned from work for union organising.
The list goes on and on, The Kier Group is a giant construction company with subsidiaries worldwide, working in multiple sectors (including multiple nuclear power stations and the aviation industries). For more information please visit corporatewatch.org.
We recognise this as a small symbolic act when compared to the relatively infinite resources Kier have at their disposal and relative harm they inflict on the lives of many. Through their actions they have earned the raising of all their properties to the ground to say the least, but with the means we have available at our disposal the best we felt we could do was help show this company up for what they really are, so that those who pass by do not see yet another harmless brick building in an otherwise peaceful residential neighbourhood. We hope the employees of Kier question their roles in an institution based on death and suffering. We hope to inspire people during this period of local and national resistance to the Police, Crime and Sentencing Bill, to see a bigger picture, to see how repressive institutions overlap and depend on one another. We also hope to add to the diversity of the means of struggle during this time of hightened ideological and dogmatic pacifism. We do not attempt to dictate what people do to contribute, we support, by any means necessary, resistance to the arbitrary authority of destructive companies such as Kier and the justice system with whom they share a bed. If we do not achieve any of these goals we have at least strengthened our comradery, expanded our level of experience, boosted our confidence and took joy in refusing the passivity of witnessing such destruction without acting out our rage and frustration.
In the same way that repressive laws should not get passed without resistance, it should not be the case that such companies should be able to operate without a fight.