Almost exactly 6 months after the statue of the racist slave-trader & murderer Edward Colston was torn down by anti-racist & Black Lives Matter protesters on the 7th June, (as we warned on Sunday in this article) 4 people hunted down by A&SPolice have now been charged, this afternoon, with 'criminal damage'. This is a decision by the Crown Prosecution Service (CPS), after the Police sent their files to them in mid-September.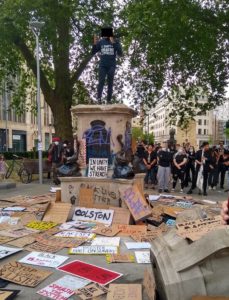 This is both a political charge, and frankly a confusing one. Six people out of the thousands present on the day have already been offered 'a conditional caution for the offence of causing criminal damage to property valued under £5,000.' it was reported here. Yet these 4 face court for an apparently identical charge (we have not of course seen either the court papers, nor the police's evidence). This makes the case a political one, by picking on just these 4 people, it is clear that the 'powers that be' – primarily the Tory Govt in London – want an example made, even if anyone found guilty is unlikely to face much more than a major fine (we hope), and they may well of course be found not guilty. They are innocent until the court case is over.
What happens now? The Colston 4 will no doubt be consulting with their solicitors, considering their options, and planning their defence, with the back-up from their legal support team. The first date set for their court hearing is 25 January. If just 10% of the 10,000 plus who were at the demo on 7th June turn up outside court to show their solidarity, it will send a clear message to the prosecutors & politicians. As we said back on 8th June – Solidarity with anyone persecuted for the removal of Colston. We all did it!
The case will also be a political trial because it will keep in the spotlight both the Society of Merchant Venturers, those cheerleaders for Colston and great beneficiaries of the slave-trade (see this article) – who continue to be protected by their power, wealth & networks; and of course Bristol's Mayor Rees, who collaborated in the police investigation when Bristol Council gave the Police the necessary statement regards damage to the statue. Rees, who failed for 4 years to do anything about the hated statue (see part 3 here), but took down a sculpture of south Bristol's Jen Reid in under 24 hours, has shown himself to be both unprincipled and corrupted by his own pursuit of power. He'll be looking forwards to next May's Mayoral election with trepidation.
It is now up to all of us committed to eradicating institutional racism and seeking justice in relation to the horrors & legacy of the slave-trade, to stand with the Colston 4. Until all are free!