Activists Blockade Prison and HS2 Compounds in Anti-KIER Protest
At 7am this morning groups of masked protestors descended on HMP Five Wells prison and the Cranwell farm HS2 compound on the a41 just out of Aylesbury in a coordinated attack against controversial construction giant KIER.
Carrying devices called 'lock-ons' individuals quickly blockaded entrances to both sites. Putting their arms through pipes surrounded by metal and concrete it is clear that removing them will be a task of epic proportions. Flanked by supporters and banners reading 'BUILD COMMUNITIES NOT CAGES #KIERENDSHERE' and 'KIER KEEPING ECOCIDE, CLASS WAR AND CAPITALISM RUNNING SMOOTHLY' it's a striking scene. Some builders at the not yet finished mega prison assaulted protestors there to support the people in lock-ons, with one person getting headbutted. Some people have entered the sight and climbed on top of buildings to do a banner drop and are playing a game of cat and mouse with security. Meanwhile it was quite a different response from the workers at the HS2 compound who no doubt are used to protests of the controversial ecocidal railway project. Police are currently on scene at both locations with at least five police cars currently by the blockade in Wellingborough.
"I am here because I'm terrified by the increasingly alarming political climate and with the new police, crime, sentencing and courts bill looming I'm worried we are going to see far more people suffering in prisons like this for daring to oppose any injustice or simply existing as an ethnic minority or immigrant." said one of the people locked on outside of HMP Five Wells. "KIER is an evil corporation with its crooked fingers in so many pies" added another protestor on the scene "KIER is a construction company that is responsible for building mega prisons, nuclear power stations, animal testing labs and causing irreversible environmental damage through contracts with HS2. Everyone should be taking issue with them. There's so many reasons to hate KIER."
'Corporate watch' released information in a profile they did of the company stating that "KIER is a well established prison profiteer. The company has been working for the Ministry of Justice for the last 14 years." And KIER has plans to use prison labour to get their latest mega-prison built. "Prisoners are paid less than £9 a week for a full working week inside and have no rights to organize, take sick leave or be protected by any employment laws. If prisoners do not work they are punished with 22 hour lock up instead." But this is far from the first time KIER has been in muddy water relating to workers rights. The organization monitored more than 3000 workers and blacklisted many for union organizing. 250 were awarded £10 million in compensation in 2017. KIER was also found guilty of safety violations the same year. Violations that led to the death of Aidan Gallager, 37, farther of three. "We are here protesting KIER for a multitude of reasons. KIER is harming us and our communities. From prisons to nuclear plants, HS2 to vivisection labs and even military infrastructure, KIER builds things that kill! And they are exploiting their workers to do it." "HMP 5 Wells will have capacity to hold 1680 people, they want to fill these cells with protesters, we want to express our love and solidarity with everybody involved in the struggle to 'Kill The Bill'. It comes as no surprise to us that construction coincides with the new Police, Crime, Sentencing and Courts Bill. As KIER builds yet more prison cells the state is finding ways to further criminalize Gypsy, Roma and Traveller communities, increasing sentence lengths and making it harder to obtain parole."
Meanwhile at the HS2 compound a protestor had this to say "I've been on the HS2 campaign for almost a year and the police corruption and violence from police, security and workers has been getting worse and worse. They don't even pretend to be interested in anyone's welfare anymore. I've seen badger setts filled in and trees filled with nesting birds and bat roosts cut down. Protesters, including teenagers, on the campaign are regularly getting sexually assaulted and beaten up by bailiffs while aided by the cops. I've had enough of big businesses like KIER crushing people without consequences"
"We don't want KIER and the things they do to go unnoticed or unresisted. This giant company is building more and more prisons, it's building bio-science labs to exploit and torture animals, gentrifying cities and making housing unaffordable for our most vulnerable communities, it's cutting down ancient woodlands and it's using our taxes to do it! We can't trust anyone but ourselves to hold them accountable" said one of the organizers of the event who wishes to remain anonymous.
It'll be a hard, long day at Wellingborough and Aylesbury but it doesn't look like anti- KIER protestors will be going anytime soon.
Update
Taken from Kier Ends Here Twitter:
Police and security presence increase at both the #Wellingboroughmegaprison and #hs2 compound Prisons and environmentally damaging projects like #hs2rail both displace people and enact institutional racism and classism.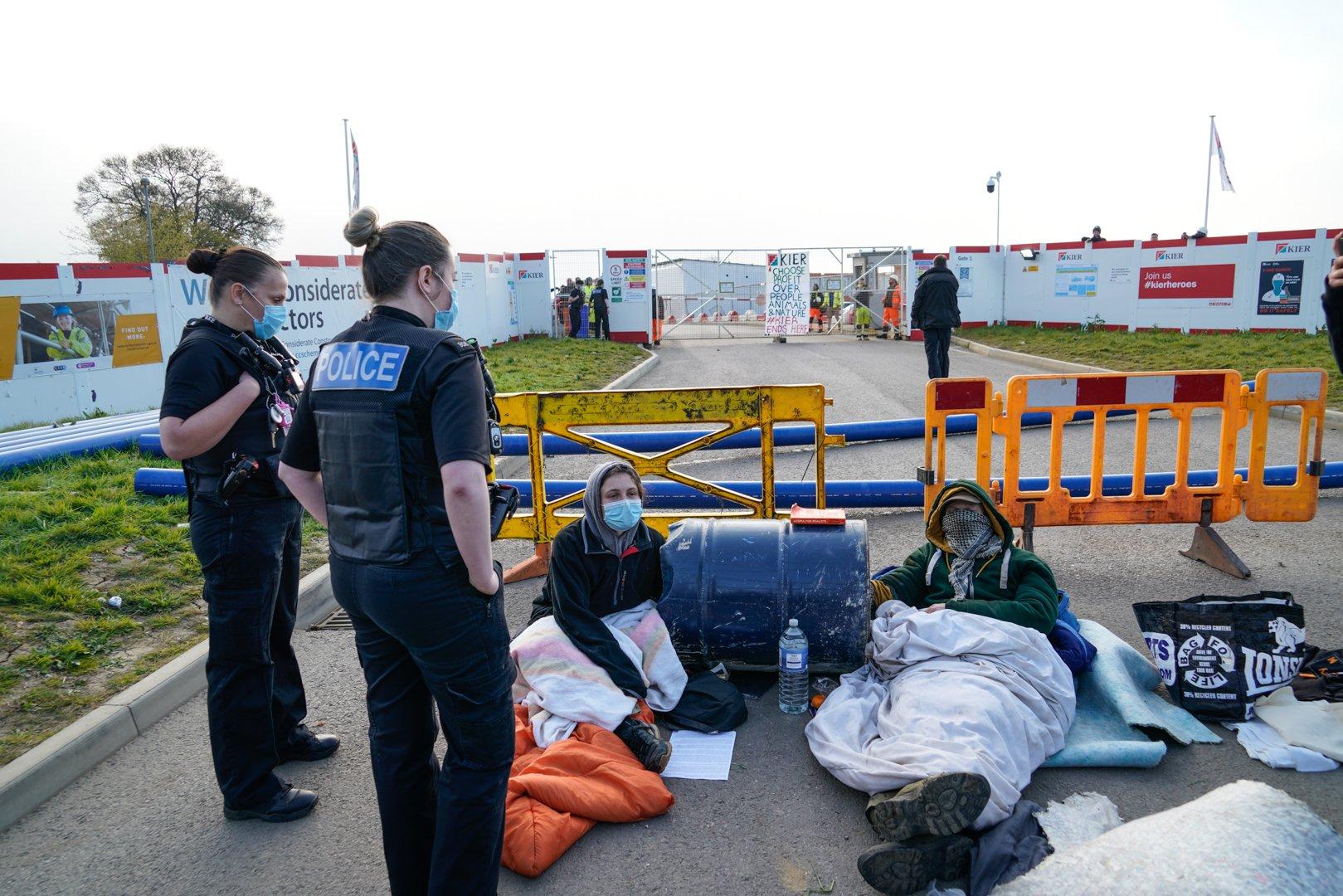 Update
The day is over but the night is beginning. The 4 people locked-on at the #HS2 compound have been removed. Folks are waiting outside the cop shop till they get out. Those locked on outside #hmp5wells are still going strong.
Update
Waking up to a #megaprison after a cold night.
@kiergroup
have a long history of exploiting prison labor and
#blacklisting
workers who try to
#unionize
yet not that many people know who they are or all the horrors they've been building. Enough.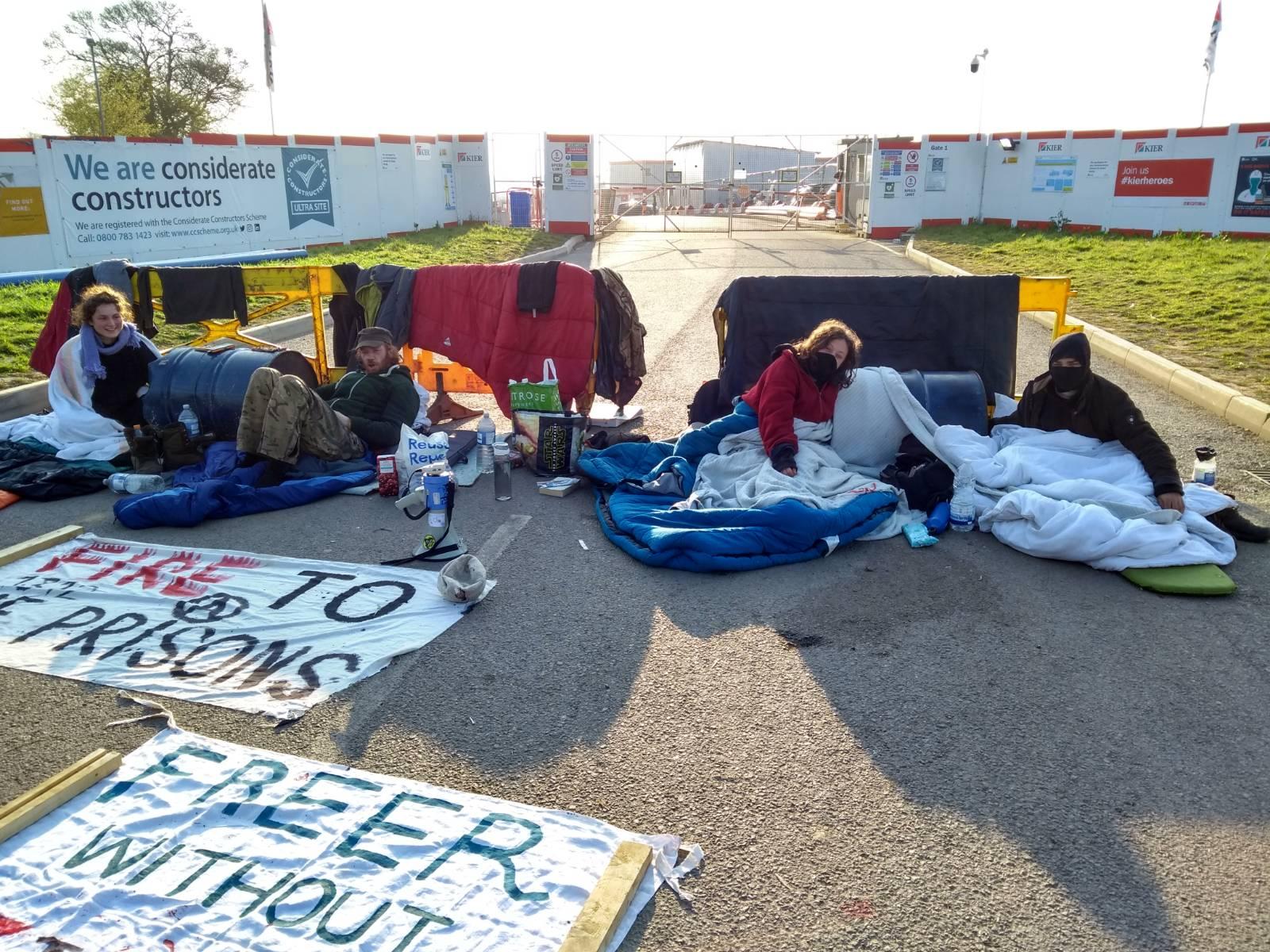 Update
#BreakingNews
the last person locked on outside
#HMP5Wells
has been cut out. Only took them 35 hours. So sorry
@kiergroup
if you've been inconvenienced… Actually no we aren't
#fuckkier
Stop putting people in cages and war profiteering.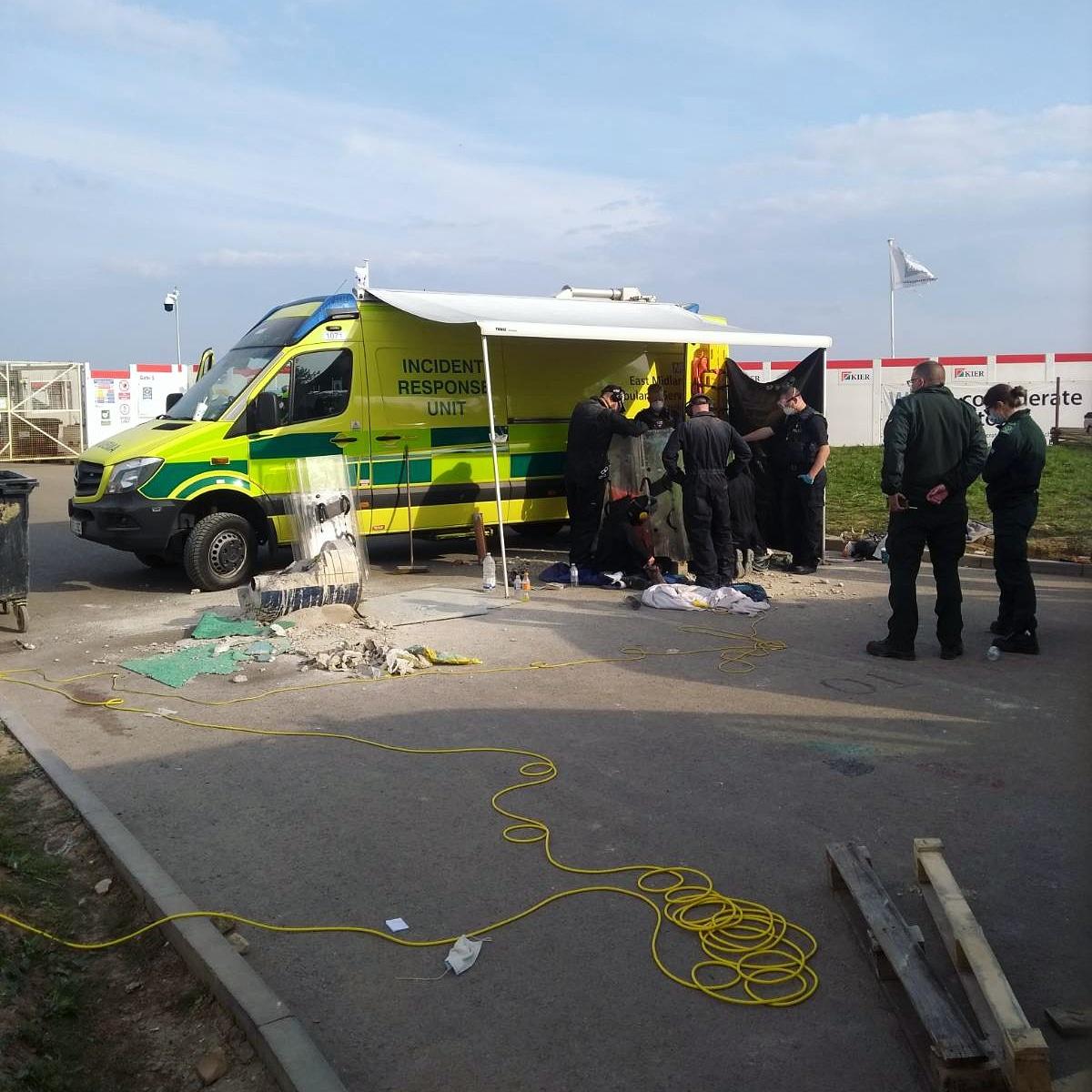 email: kierendshere@protonmail.com
facebook: kierendshere
instagram: kierendshere