Republished from: https://corporatewatch.org/newprisons/
On Sunday 28th June 2020, the British Government announced plans to build four new prisons. This article gives an update on the Prison Estates Transformation Programme – the state's programme to create more than 10,000 prison places. This programme was the topic of Corporate Watch's Prison Island report about prison expansion in England, Wales and Scotland published in 2018.
Summary
One new prison is planned for the North-West of England

Two new prisons are planned in the South-East of England

The announcement includes the already-in-process mega-prison at the site next to HMP Full Sutton in East Yorkshire.

Two previously announced prisons are also in the midst of construction in Wellingborough and Leicestershire.

If all the prisons are successfully built, a total of 13,360 new prison places will have been created, massively expanding the prison system.

The government has been boasting about its plans to create 10,000 new prison places since 2016, however, has only created 206 new places in the last four years.

Resistance to prison expansion and government bureaucracy have significantly delayed the programme.
The failure of the Prison Estates Transformation Programme (PETP) so far
The state first announced its plans to create 10,000 new prison places since 2016. The original objectives of the PETP were to:
Build five new prisons by 2019-20 – FAIL

Build an additional four new prisons by 2020-2021 – FAIL

Build two new residential blocks in 2017-18 – one block was constructed at HMP Stocken in the East Midlands
In fact only 206 places were created in the last four years. So why has the government failed so badly to meet its targets?
A National Audit Office investigation into the programme reported that construction timelines were impacted by delays in agreeing and receiving funding to build new prisons. This includes the failure to successfully close and sell current prison sites planned for redevelopment.
In addition to the internal financing crises, community resistance effectively halted the proposed mega prison for Port Talbot in North Wales. Likewise, in Wigan, residents stalled the process by raising environmental health concerns.
In August 2019 Boris Johnson reaffirmed the state's commitment to building the new prisons and the treasury anounced it would provide the Ministry of Justice with up to £2.5bn of funding as part of a 'plan to crackdown on violent crime'.
Now the programme is being pushed through faster as part of a spending package to 'boost the economy' following the impact of the coronavirus. A new government taskforce has been created called 'Project Speed' led by the Chancellor, Rishi Sunak to make the construction happen faster.
The Ministry of Justice's announcement on twitter said:
A racist economy built on cages
The government have been criticised for using caceral punishment as a means of "boosting the nation's financial well-being". Waves of prison construction and prison privatisation since the early 1990s have created an economy built on cages, with England, Wales and Scotland having the highest rates of imprisonment in Western Europe.
According to the National Audit Office, in 2018-19, Her Majesty's Prison and Probation Services (HMPPS) spent around £1.69 billion to operate prisons and £184 million on capital spending, comprising of £113 million on maintenance and £71 million on constructing prisons and reorganising the estate.
Despite the phenomenal amounts of money involved, prison conditions continue to deteriorate. As of April 2019, there were 63,200 outstanding maintenance jobs. HMPPS estimated in November 2019 that it could cost £916 million to address its major works backlog.
Meanwhile, the harm experienced by people behind bars continues to escalate. Between 2015 and 2018, there were 378 self-inflicted deaths, and a 73% increase in self-harm incidents as well as a 63% increase in prisoner-on-prisoner assaults. Self-harm rates are now the highest on record.
As documented in our Prison Island report, prison sentences are extremely racialised, classed and gendered. In December 2018, it was recorded that over a quarter of people in prison are people of colour. Research has shown the odds of imprisonment for indictable offence at the Crown Court are 53%, 55%, and 81% higher, respectively, for Black people, Asian people, and those of other ethnic groups, even when factoring in higher not-guilty plea rates.
Where will the new prisons be?
On Sunday 28th June 2020, the British Government announced plans to build four new prisons. This includes a new mega-prison next to the existing HMP Full Sutton in East Yorkshire. This new category A prison received planning permission in September 2019 despite thousands of objections.
They say work is underway to identify locations for the additional prisons in the North-West and South-East of England.
Locations being considered could include:
Greater Manchester: In March 2016, it was announced that the Greater Manchester Combined Authority had been looking for a location for a new prison with the Ministry of Justice (MOJ). A year later came an announcement that HMP Hindley in Wigan would be redeveloped to lock up as many as 1300 people. A strong local campaign, Pies not Prisons, successfully organised against the prison, highlighting issues such as asbestos risks from redevelopment and local austerity in the region. In July 2017, the plans were effectively abandoned with the government stating internal delays as the cause.

Other potential North-West Locations: A 2017 FOI request revealed a number of other north-west councils had submitted prison location options. These included Chester West and Chester Council in Cheshire and Lancaster City Council, Blackburn with Darwen and Rossendale Borough Councils in Lancashire.
Rochester, Kent – In March 2017, the government announced plans to redevelop HMP Rochester in Kent into a mega prison. However, no planning application was submitted and in July 2017 further delays were announced, saying that the redevelopment might not even go ahead. The government was unable to close the existing prison at the site due to 'overcapacity'.
A Third Location in the South-East TBC – The announcement that two new prisons will be built in the South-East makes this prison location more unpredictable. It was confirmed in response to an FOI request in 2017 that Braintree Council in Essex had put forward a proposal to redevelop the Wethersfield Ministry of Defence site. Swale and Tunbridge Wells Borough Councils in Kent were also invited to share potential sites with the MOJ in 2017. In 2013, a new mega-prison was also on the cards to replace HMP Feltham Young Offenders Institute in West London.
Where are prisons currently being built?
Three new mega-prisons are at different stages of the construction process.
The new prison next to HMP Full Sutton in East Yorkshire
On the 12th September 2019, plans for a mega-prison next to HMP Full Sutton in East Yorkshire were approved despite 2,700 objections. The prison will have the capacity to imprison 1,440 people.
The plans have been 'super-sized' for an additional 423 prisoners, since the first planning application was submitted in 2017. The prison is due to open in 2024. Mace is the British multinational company overseeing delivery of the prison build. Corporate Watch created an extensive profile of the company in 2018, highlighting the deadly working conditions people are exposed to on MACE's projects in the Middle East as well as its role in the construction of the habitat-destroying HS2 High Speed Railway and developments for Heathrow Airport.
HMP Wellingborough in Northamptonshire
Construction started at HMP Wellingborough in September 2019, two years after it originally received planning permission. The new prison will lock up to 1680 people at a time and is being built by Kier, another company profiled by Corporate Watch. In August 2019 construction was stopped for six hours by anti-prison campaigners who occupied the site.
Community Action on Prison Expansion said that:
"The construction of a new mega prison will not serve the needs of the Wellingborough community. On the contrary, the project is designed to pad the pockets of private companies like Kier which is contracted to manage construction. And by building 1,600 new spaces to incarcerate people, we know this project will disproportionately harm working-class, BME and disabled people in our already failing prison system."
HMP Glen Parva in Leicestershire
The new mega-prison in Leicestershire will also incarcerate over 1,600 people. Despite securing planning permission in 2017, construction work only began in May 2020. The process was slowed by the government scrapping Interserve as a project partner and then starting a rebidding process which was won by LendLease. Read an overview of Lendlease's controversial construction projects here.
Construction at both prisons has continued throughout the COVID-19 pandemic.
New Children's Prison
The government is also opening a 'Secure School' in Kent; a prison where children between the ages of 12-17 are locked up. It will be run by evangelical Christians, Oasis, and imprison more than 70 children as part of a wave of new children's prisons that Corporate Watch reported on last year. Read a full profile on Oasis here.
The Corporations Involved
The government stated that at least one prison will be operated by the public sector. This means the others will most likely be run by private companies.
In December 2019, the state created the Prison Operator Services Framework. Six companies were shortlisted in the Framework to compete for the contract to operate the new prisons. These companies are:
G4S Care and Justice Services (UK) Limited

Interserve Investments Limited

Mitie Care and Custody Limited

MTC Works Limited

Serco Limited

Sodexo Limited
Every one of these companies is mired in controversy from their operations around the world. When the government awards the contract to run HMP Wellingborough later this week, Corporate Watch will produce a profile of the winner detailing it's track record and involvement in the global prison industrial complex.
Companies will also bid for facilities management contracts for the new prisons. The privatisation of prison facilities management has resulted in serious problems. The collapse of Carillion revealed how tasks such as cleaning and building repair had been neglected, worsening conditions for prisoners. The government were forced to establish their own company, Gov Facilities Services Limited, to pick up the pieces.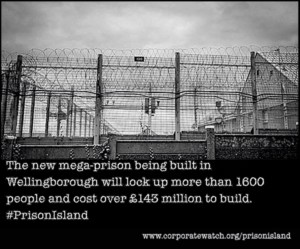 The time for resistance is now
The Black Lives Matter movement has shone a spotlight on the injustice of the world's police and prisons. Once considered radical demands, calls to defund the police and abolish prisons have reached mainstream debate. The desire to dismantle the system has never been so prominent and so powerful.
Jasmin Ahmed from Community Action on Prison Expansion, a network of local groups that has been resisting prison expansion since 2014 shares that:
"The pandemic has further exposed institutional racism across the board, from the disproportionate impact of the virus on Black and Brown communities including frontline workers, to the disproportionate policing of lockdown impacting Black and Brown youth, to the racialised impact we're also seeing in education and housing as a result of the crisis.

Spending more of our money on building prisons to lock us away – clearly to be disposed of in the case of a public health crisis – is a disturbing and dangerous process of further negligence of the safety and health of the public, particularly minoritised groups.

To reduce the number of people being victimised by the criminal justice system, and to improve our collective safety and health, we need a commitment to building communities, not cages, starting with housing, healthcare, accessible education, youth services, and community-led domestic and sexual violence support."
For more information about prison expansion in the UK, read Corporate Watch's Prison Island report here: https://corporatewatch.org/prisonisland/
To get involved in resistance to prison expansion contact CAPE: https://cape-campaign.org
CAPE are asking people to sign the petition to halt and defund the expansion program here: https://cape-campaign.org/halt-prison-building-now-defund-the-prison-estates-transformation-program/