Via Jordan Valley Solidarity
Activists and volunteers from Humm, an independent youth group, are working with Palestinian farmers in the Jordan Valley to offer practical solidarity, gain a greater understanding of the situation and challenges they face, and explore ways to work together in the future.
This project, facilitated by Jordan Valley Solidarity, brings youth from outside the area to support the resilience of our people in the Jordan valley.
On 15th January 2021 Humm youth worked alongside farmers to harvest vegetables and on land reclamation in the village of Bardala in the north of the valley.
During the launch of the project youth spent time with local families and attended workshops with farmers. The activists gained a greater understanding of the needs of farmers and the challenges they face there.  Plans were made to establish other projects in the future to support the steadfastness of Jordan Valley farmers to stay on their land, make a living and support their families, despite all challenges they face daily.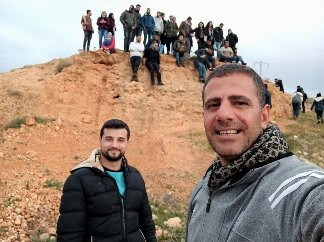 The people of the village welcomed the campaign and confirm the importance of establishing these activities, especially in difficult conditions. That the Palestinian Jordan valley vulnerable as a result of attacks from the occupation and settlers.
30 volunteers participated in this activity, divided into two groups: The first group harvested zucchini and cucumber; and the second group was tasked with cleaning the ground from stones.
Our second project day took place in the village of Furush Beit Dajan on 22nd January.
45 volunteers from Humm Youth Group worked with Save the Jordan valley, the head of the village council and local farmers.
It was great so have so many activists so we could be divided into four groups – each group responsible for a specific something.
Udaya's group was 20 and their mission was to pick the cucumber and zucchini
Jaafar group who were 8 in total participated in tying the supports around the pepper plants
The third group had 10 volunteers who participated in picking tomato under the supervision of Hussen
The last group participated in picking tomatoes and Broccoli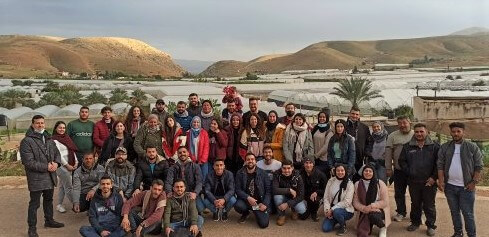 One of the activists reported:
"It was a special day, as after the picking of vegetables all the volunteers were provided with meals by the farmers. After the break was completed there was a discussion about marketing and low product prices and the lack of protection for Palestinian products. All needs and problems were discussed.
"And at the end of the activity there was an artistic group of participating activists who played music. And some soap and vegetables products were also sold as from of solidarity and for the sake of marketing and supporting local products.
"Later all the problems and challenges will be studied with the volunteers and Save the Jordan valley campaign will try to find solutions to help the farmers survive and continue."