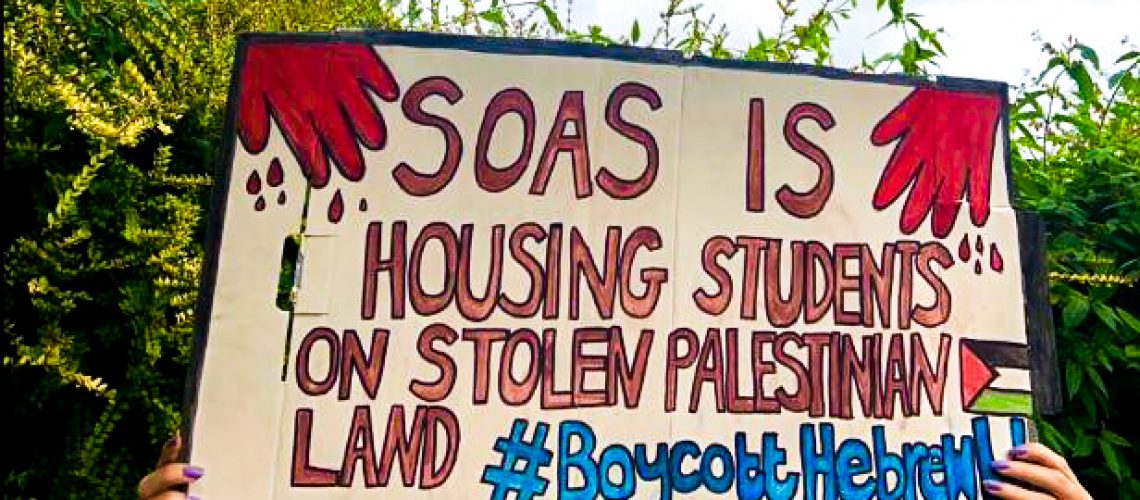 Statement from students from the BDS x SOAS group, republished from the Apartheid off Campus website

"We are a group of students studying at SOAS University of London and we are disgusted by the extremely unethical ties our university maintains with Israel. Upon discovering the extent to which SOAS materially supports Israeli colonialism, we have urgently decided to respond to the call from Palestinian civil society, by fulfilling the demands of the Boycott, Divestment and Sanctions (BDS) movement at our university. We are advocating for Palestinian rights, which will only be achieved through tangible decolonisation commitments. SOAS prides itself on its progressiveness and commitment to decolonisation, yet maintains such immoral links to colonialism. In other words, SOAS is a hypocritical institution which presents this façade of anti-racism and tolerance, but is actively assisting the racist, anti-Palestinian, Zionist regime. In fact, SOAS have a number of policies specifically outlining ethical, equality and safeguarding regulations, but the connections to Israel which they choose to maintain, are in direct violation of said policies.
SOAS currently invests in various companies which are complicit in Israeli war crimes, such as Microsoft, which the Israeli state has used for facial recognition technology and the surveillance of Palestinians. This is hugely invasive and is only one of many examples of the denial of Palestinian freedom at the hands of the Israeli government. By extension, SOAS and other universities in the UK are upholding and aiding present-day colonialism by investing in seemingly 'innocent' companies. These investments go directly against SOAS' ethical investment policy, which according to SOAS, concerns human rights and armaments in its considerations, both of which are vastly overlooked by continuing to invest in complicit companies [1].
In addition to the numerous complicit companies SOAS continues to invest in, our university also has a partnership with Hebrew University of Jerusalem (HUJ). Hebrew University is located in occupied East Jerusalem, on stolen Palestinian land. This is illegal according to international law, as stipulated in the Fourth Geneva Convention. By sending students on their year abroad to Hebrew University, SOAS is encouraging students to support the illegal occupation and be directly complicit in internationally-recognised war crimes against the Palestinian people. Not only are SOAS allowing its students to stay on stolen land, they are risking students' safety, by sending them to study at a university where Israeli soldiers are being trained and are required to wear army uniforms, as well as carry firearms on campus. This is a severe danger to SOAS students on this exchange programme, but more so to Palestinians in the local area who are disproportionately targeted by Israeli soldiers. All Israeli universities are key tools in perpetuating the oppression of the Palestinian people in several ways, including conducting medical research on Palestinian prisoners, developing technology used to spy on Palestinians, erasing Palestinian history and strengthening the Zionist regime. None of our universities should be directly or indirectly contributing to any settler-colonial, occupying or apartheid state, in any way whatsoever. Once again, this partnership goes directly against SOAS' ethical policy for collaborations, therefore must be terminated immediately [2].
It is very difficult to digest that, on top of this, SOAS also has a contract with the Ministry of Defence (MoD) [3]. SOAS' very own lecturers are delivering training sessions to the British Military and are providing detailed information about regions in the Global South, including Palestine. The people living in these regions are already subjected to uninhabitable and unsustainable living conditions as a result of UK and international policies, which is why it is deplorable that our own university is accelerating the murders of innocent civilians. Our tuition fees are essentially funding war crimes and we are not standing by while this continues.
Our new BDS group hope to revitalise the energy from the 2015 BDS referendum held at SOAS, in which a group of students worked endlessly to gain an overwhelming 73 percent vote from students, faculty and staff, in favour of the boycott [4]. More than two thousand people on campus voted to say SOAS should cut all ties with Israeli academic institutions. Although this BDS referendum was passed with a landslide majority, SOAS still refuses to uphold BDS on campus, by continuing to maintain these complicit links. In fact, the following year, they invited the Israeli ambassador, Mark Regev, to speak at SOAS in conversation with the SOAS director, Valerie Amos. This was, and still is a demonstration of the gross rejection of the SOAS community's democratic and collective stand against Israeli settler colonialism. We intend to hold SOAS accountable.
We are dedicated to ensuring that we as students are not directly complicit in Israel's criminal activity, and this is aligned with the goals of the student-led network Apartheid Off Campus, who work closely to make their universities cut ties with Israeli apartheid. Masses of students across the UK in this network are putting pressure on their universities to hold them accountable for these links, and we are committed to doing the same, in the pursuit of freedom, justice and equality for the Palestinian people. We refuse to accept SOAS' complicity with Israeli colonialism, and we are determined to work hard until our university is no longer supporting the atrocious Israeli occupation."
[1]
https://www.soas.ac.uk/admin/governance/policies/file103235.pdf
[2]
https://www.soas.ac.uk/admin/governance/policies/file115467.pdf
[3]
http://soasspirit.co.uk/news/soas-delivers-specialised-training-to-the-british-military/
[4]
https://electronicintifada.net/blogs/rana-baker/londons-soas-backs-israel-boycott-referendum-landslide
Launch statement: https://apartheidoffcampus.org/bds-x-soas/ Facebook: https://www.facebook.com/BDSxSOAS/ Instagram: https://www.instagram.com/BDSxSOAS/ <https://www.instagram.com/BDSxSOAS/>