Submitted anonymously to Autonomy News
The registered offices of Elbit Systems UK were given a makeover yesterday, as activists sprayed the outside in red paint, and wrote 'Ditch Elbit' and 'Save Sheikh Jarrah' on the building [Sheikh Jarrah is a Palestinian neighbourhood in East Jerusalem where local people are currently struggling against mass evictions, backed by the police and military].
The offices at 2 Temple Back East in Bristol are owned by Osborne Clarke, a multinational law firm, and Elbit Systems UK uses this address as its registered office.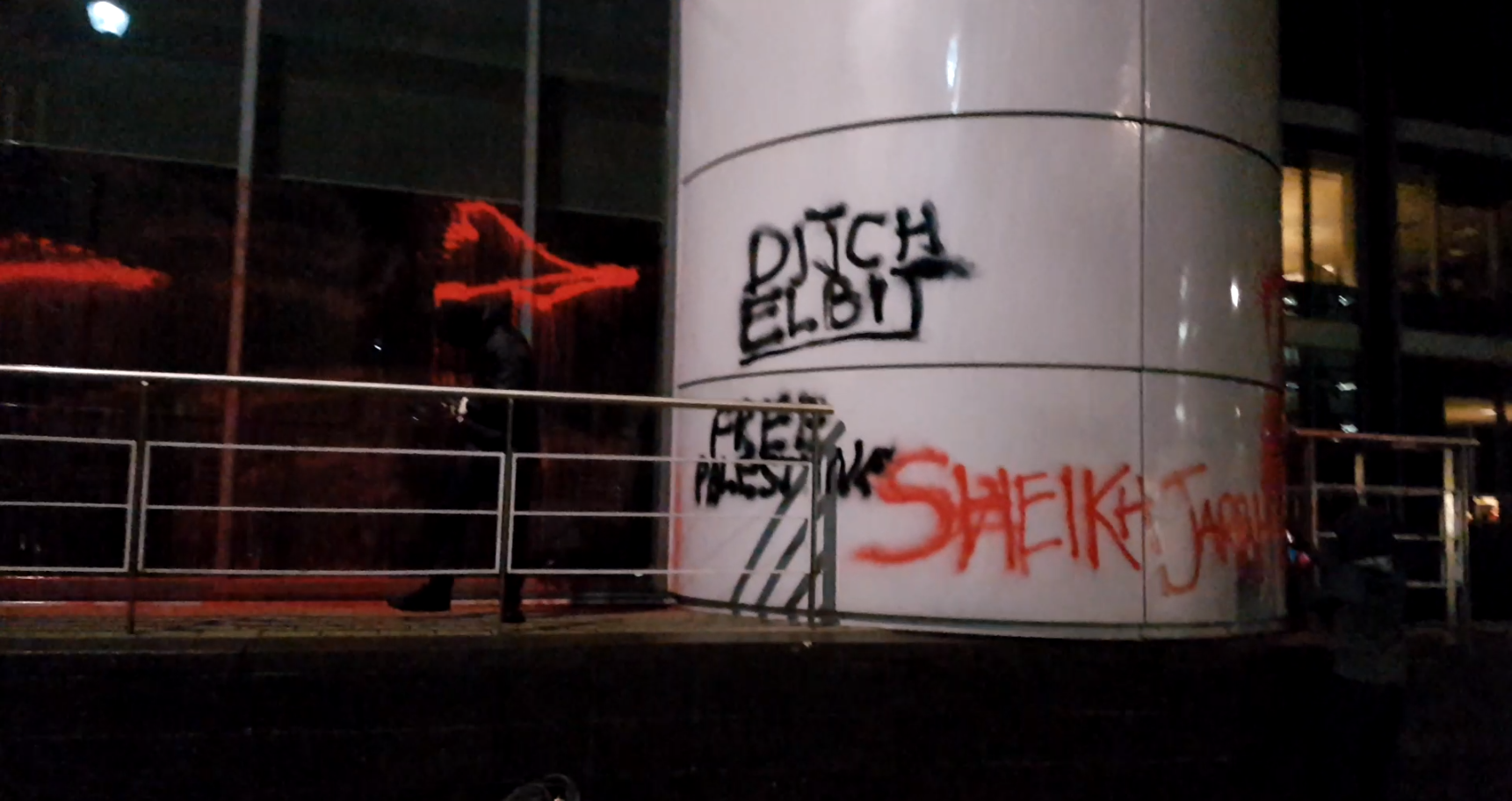 Elbit Systems is Israel's largest arms company and is responsible for about 85% of the drones used by the Israeli military, as well as for much of the other military equipment used to surveil, terrorise, maim and kill Palestinians on a daily basis. The company has 10 sites in the UK, including 5 factories, all of which produce parts or equipment used by the Israeli army. Elbit's weapons have also been used – including at the present time – to commit war crimes in other regions of the globe, including in Yemen, Azerbaijan, Uzbekistan, Turkey, India, Pakistan, and elsewhere.
The Bristol attack follows a rooftop occupation at Elbit System's factory in Leicester earlier in the week. It also follows calls on those providing Elbit with offices in London and Kent to refuse to deal with a company directly supplying weapons to governments engaged
in war crimes.
The brutal bombing of Gaza which began on the 10th May and continued over 11 days may have been halted while a ceasefire is in force, but the siege has not been lifted, the violence is ongoing, and the occupation has not ended. Osborne Clarke will remain complicit in Israel's war crimes while it continues to offer its services to Elbit.